Is there anything better than wearing a handmade piece of clothing or accessory? Whether you're an experienced seamstress or just getting started, the Singer Quantum Stylist 9960 Sewing Machine can help you create your custom designs.
The Singer Quantum Stylist 9960 is one of the most advanced sewing machines on the market. Its power, style, and ease of use will appeal to any sewing enthusiast – whether a beginner or an experienced seamstress looking to upgrade their machine.
This product review will cover everything from how to use it to its features and specs, as well as tell you about my personal experience with this machine!
Sewing Hackers' Rating
If you are in hurry, here is our rating, based on online comments, reviews and user experience.
POSITIVES
Automated threading and cutting system

Programmable patterns for a wide range of designs

Easy speed control

Provided with 13 presser feet

Automatic thread tension feature for easy 
NEGATIVES
Poor buttonhole quality

The letters are not big enough

It can be challenging for beginners
What is the SINGER 9960 Sewing Machine?
The Singer Quantum Stylist 9960 is not your average sewing machine; in fact, it's not just one sewing machine – it's 6! There are literally dozens of functions, and all of them can be accessed through the easy-to-use touchscreen. Whether you're looking at hem pants or creating a full outfit, there isn't much this machine can't do, and it can do it quickly and easily!
The Singer 9960 is an excellent sewing and quilting machine that will easily handle any project you throw at it. It has many stitches and features, making it perfect for beginners and experts alike. The automatic needle threader, quick bobbin winder, top drop-in bobbin system, built-in free arm, and one-step buttonhole make this machine a must-have for any sewing enthusiast.
With more than 600 stitch functions and the capability to sew with up to 8 layers of material, there's a lot that this machine can do! Talk of stretch and basic stitches, decorative and quilting stitches, as well as home decor and crafting.
And for convenience, there are several presser feet, including zipper foot, buttonhole foot, overedge foot, blind hem foot, and satin stitch foot, included in the box.
Singer Quantum Stylist 9960 Features
This machine has so many features that make it a must-have for any sewing enthusiast. It is easy to use, lightweight, and comes with various accessories, including needles, bobbins, and scissors. It also has an automatic needle threader, making threading the needle a breeze. The bobbin winder is conveniently located on the side of the machine, eliminating the need to flip anything over.
A touchscreen LCD screen and a menu button allow you to choose your stitch type, length, and width. You can even create your stitches! If you're looking for versatility in your machine, this one is ideal.
The Stylist 9960 also features a high speed of 850 stitches per minute, so there will be no delays when creating your masterpiece. So whichever project you are working on, you'll have the right stitch for the job.
In addition, it also includes 14 presser feet – all of which are easy to attach and remove thanks to their magnetic nature. With so much to offer at such an affordable price, the Singer Quantum Stylist 9960 is worth checking out!
Singer 4423 Specifications
Here is a link to download the Specification Sheet (PDF).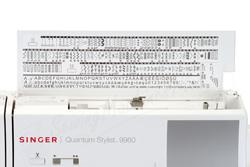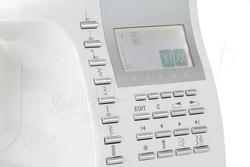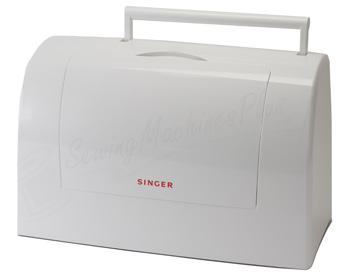 That's it for the technical part of this review. Next I'm going to talk about my experience with this sewing machine.
What I Like
The 9960 comes with a dramatic 600 built-in stitches, which are quite impressive. 
The stitches are displayed in five different fonts (Gothic, Script, Italic, Outline, and Russian).
The machine comes with two unique features that can be handy to work with – the mirror/reverse image utility and stitch elongation function.
The mirror/reverse feature provides you the possibility to flip stitches horizontally or vertically.
The stitch elongation feature allows you to lengthen stitches up to five times their original length.
Automated threader and cutter
The automated threader provision makes the threading process easy and effortless. 
With this functionality, you can thread the entire machine from the spool to the needle eye in just six seconds.
The automated threader function is facilitated through the cutter button. With just a click, the machine will automatically cut your needle and bobbin threads.
Top-loading Bobbin system
The bobbin comes with a clear cover making it easy to keep a check on the number of threads left. The "Up/Down" button for the needler is conveniently on the front of the machine for instant needle control.
Auto-pilot and speed control
The auto-pilot functionality allows you to sew without having to use your foot pedal.
It also keeps you alert when there's an error. You can control this functionality using the LCD screen.
The 9960 comes with a black and white LCD screen. It displays the stitches available and also suggests the best presser foot for a particular job. 
The digital information advisor recommends the best stitch, length, and even width for your task.
What I Dislike
This sewer doesn't give you the option to save stitch sequences. This is a real downside, as you will lose the stitch sequences once you switch off the device.
A bit challenging for beginners
The sewer is not user-friendly for beginners. It does come with a learning curve. 
It will take time to explore the functionalities and get familiar with the features.
The small work area can be annoying for people who are working on large garments like quilts and heavy embroideries.
Who Should buy
The Singer 9960's automatic design suggestion makes it a perfect choice for beginners.
The professionals can make use of the unique advanced features to get the most of the sewer.
The Singer 9960 is a real leader with its vast array of impressive features.
Its unique features include the up/down needle button, automatic thread cutter, extension table, swift sewing speeds, stitch pattern options, automated tension control, and thread cutter, not including the striking 13 pressers it comes with.
It does have a few pitfalls with being heavy, poor LCD quality, and small work area.
Nevertheless, this would be the right pick for people who are looking for a sewing machine with advanced features and a reasonable price.
Frequently Asked Questions
Can singer 9960 sew leather ?
The Singer Quantum Stylist 9960 is a workhorse of a machine that can sew through the thickest, most difficult fabric and materials. I have used this machine to sew leather, vinyl, and heavy upholstery without any problem. You only need to use special needles for sewing through tough materials like Teflon and leather. And with an automatic needle threader and quick-set bobbin, you will spend less time messing around with the machine when trying to get started.
Can a 9960 Singer sew denim?
Sure thing. With just the right needle and machine setting, you can sew denim with the Stylist 9960. My favorite jeans are made by, and they always look great! Other heavy fabrics like canvas are also a breeze to work with. Whenever I do my sewing projects, it's easy to get professional results on all fabric types. So don't be afraid to experiment, no matter what fabric you use. The Singer Quantum Stylist is a quality machine that chews almost anything up and handles most repairs or alterations without issue.
Can Singer 9960 embroidery?
Singer's top-of-the-line sewing machine model, the Quantum Stylist 9960, has many features to offer, including embroidery. There are different decorative stitch patterns and inbuilt lettering that constitute embroidering. And best of all, the programmable embroidery capabilities make this machine so easy to use. All you need to do is enter the design, letter, or number you want into the computer, and away you go!
That's a Wrap
After years of experience, I can confidently say that the Singer Quantum Stylist 9960 is a must-have for any sewing enthusiast. It comes with various features, including plenty of stitches and decorative stitches. With its easy-to-use design, it is perfect for all skill levels.
Unlike most other sewing machines, this machine has a built-in needle threader. Different accessories are also included in the box, such as bobbins, needles, and screwdrivers. The automatic needle threader makes this product stand out from competitors because it's one of the only machines on the market with this feature. The presser feet are custom and adjustable, so no more struggling to see what you're doing!
So whether you're new to sewing or an experienced professional, the Singer Quantum Stylist 9960 is an investment worth making.