If you're in the market for a new industrial machine, you may be wondering which one is the best for your business. There are a lot of factors to consider, but one of the most important is the type of machine you need. 
The Juki DDL 5550N is a top-of-the-line industrial sewing machine that is perfect for businesses that produce a lot of sewn products.
In this article, we're going to take an in-depth look at the Juki DDL-5550N so you can decide if it's the right sewing machine for you.
Sewing Hackers' Rating
If you are in hurry, here is our rating, based on online comments, reviews and user experience.
POSITIVES
Professional quality stitches

Works smoothly on tough fabrics and multiple layers

Quiet even at high speeds
NEGATIVES
Knobs tend to break

The machine might struggle with the leather

Expensive
What is the JUKI DDL 5550N?
The Juki DDL 5550N is an industrial machine that is perfect for those who are looking for a durable and reliable machine. 
This machine is built to last and can handle a variety of different fabrics. It has been designed for industrial use and is perfect for garment construction and other similar applications.
This sewing machine features a built-in needle threader, which makes it easy to get started with your projects, a top-loading bobbin system, which makes it easy to keep your thread supply full. 
The Juki DDL 5550N is a great choice for all skill level and for those who are looking for a high-quality sewing machine that will last for years to come.
JUKI DDL 5550N Features
Juki DDL 5550N is a high-speed, single-needle, Lockstitch Machine with Automatic Thread Trimmer designed for medium to heavy-weight materials. With its Powerful DC Servo Motor, it can sew up to 5500 stitches per minute. The list below is non-exhaustive but will give you a good idea of what you'll get with it:
JUKI DDL 5550N Specifications
Here is a link to download the Specification Sheet (PDF).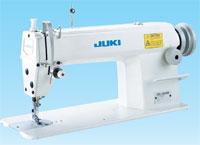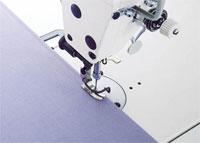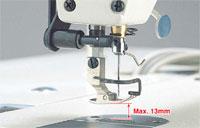 That's it for the technical part of this review. Next I'm going to talk about my experience with this sewing machine.
What I Like
The Juki DDL 5550N produces one of the most consistent and high-quality stitches on the market. With the Juki brand, one of the best sewing machine brands on the market, most people come to expect nothing less. 
Great For Multiple Layers 
The unmatched 5,500 SPM and adjustable sewing foot pressure allow you to sew multiple layers with ease. The adjustable sewing foot pressure and height ensures that you can create tight or loose stitches regardless of how many layers you're sewing. 
Automated Features To Prevent Mistakes
Unlike most industrial sewing machines, the Juki DDL 5550 comes with a fabric edge sensor and automatic thread trimmer to prevent mistakes. The fabric edge sensor will track the location of the stitch. When it detects that you're drifting towards the edge, it will stop and trim the thread. 
The Juki DDL 5550N also has a bobbin thread sensor that will alert you when your running low to avoid any issues when you run out. 
What I Dislike
The Juki DDL 5550N is a workhorse. But the power and quality of the Juki DDL 5550 come with a steep price tag.
It's also very heavy at 75 pounds for just the base. You will likely need to get a new sewing table to hold it and ensure that it's secured onto the table properly. 
Only straight stitch option and manual tension adjustment
Like many industrial sewing machines, this machine comes with only the straight stitch option. If you use other stitches frequently, you will need to invest in a second sewing machine. 
Works Best On Medium Fabrics
The tension and pressure adjustment on this sewing machine is better for medium fabrics rather than thick layers. 
If you sew multiple layers of thick fabric, you might experience trouble with your stitches' tightness. While the speed won't be an issue, the issue comes from the limited pressure adjustment. 
Who Should buy
The Juki DDL 5550N is perfect for all skill level from intermediate to expert sewers. If you're not an expert but have some experience, this machine can help you make the transition. 
This machine is great if you're looking for a fast motor to perform simple straight away sewing. At 5,500 SPM it's one of the fastest sewing machines on the market.
If you tend to sew with single layers of thick fabrics this is a great option. For multiple layers, you should opt for a sewing machine with stronger pressure adjustments.
Frequently Asked Questions
What is a Juki DDL 5550N used for?
The Juki DDL 5550N is a sewing machine that is most commonly used for making garments, such as shirts, pants, and dresses. It is a versatile machine that can be used for a variety of different types of fabrics, including both light and medium fabrics.
Which is better JUKI or Bernina?
There is no simple answer to this question as it depends on a variety of factors including sewing project requirements, budget, and personal preferences.
In general, Juki machines are known for being durable and versatile, while Bernina machines are considered to be higher quality and more precise. Ultimately, the best sewing machine for you is the one that meets your specific needs and sewing style.
No, JUKI is not made in China. It is a Japanese electronics company that designs and manufactures industrial sewing machines, domestic sewing machines, and other textile-related equipment and products.
Can I use wd40 to oil a sewing machine?
The short answer is no. WD-40 is a degreaser and lubricant, but it's not made for use on sewing machines. WD-40 can actually damage some of the parts on a sewing machine.
Here is an article about the best sewing machine oil that should help!
Conclusion
The Juki DDL 5550N is a high-quality sewing machine that is perfect for a experts or someone who wants to upgrade from a basic model. It has a wide variety of features that make it easy to use, and the results are professional-looking stitches. This machine is a great value for the price, and it comes with a wide variety of accessories like its built-in needle threader, thread cutter, and automatic thread tension control.
The Juki DDL 5550N is also backed by a solid warranty, so you can be sure that your investment is protected !