Are you looking to invest in a new sewing machine but not sure where you should start?
I get it. With all the brands and models available, it's difficult not to get overwhelmed.
Don't worry. Your search is over. In this post, we'll go over the sewing machine brands available on the market. So you can skip the endless research and finally find the sewing machine you need.
Let's dive in!
1. Janome 🇯🇵
Established in 1920s, Janome is one of the most innovative sewing machine company in the industry. The word Janome means "eye of the snake."  The name was born after Yosaku Ose, Janome's founder used a round metal bobbin system as an alternative to the traditional long shuttle.
While the company originated in Japan, they now have divisions on all continents except Antarctica.
They are the first to produce a computerized home sewing machine. 
Janome designs are beginner-friendly. They take pride in simplicity and automatic functions. The downside is that Janome is expensive. But in comparison to similar brands, they're worth every penny.
Best Janome Sewing Machine For Beginners
If you are new to sewing and looking for a sewing machine, then the Janome 2212 is a great option. It has all the tools as a beginner to set you up for success.

To start, it has 12 built-in stitches and a four-step buttonhole, so you can explore the designs you want with ease. Making adjustments is quick and easy with two adjustable width and length nobs at the top.

With this sewing machine, your first projects will be a breeze, and before you know it, you'll be an expert.
2. Brother 🇯🇵
Brother is another sewing machine maker born out of Japan. 
Their history began in 1908. Back then, the company was providing repair services for sewing machines. The company was originally called Yasui Sewing Machine Co. In 1968 the electronics company acquired the Jones Sewing Machine Company an established British sewing machine company. 
They pride themselves on producing only high-quality sewing machines at affordable prices. They provide you with cutting edge innovation for sewers, embroiders, and quilters. Because they're an established international brand, most of their machines are easy to purchase no matter where you are. 
Best Brother Sewing Machine For Beginners
If you're new to sewing, the Brother XM2701 is a great option. It's not too beginner-friendly where you feel limited after the first few weeks. It's easy and powerful to keep you creating new designs for some time.

It has many automated functions so that you can focus on your sewing patterns. It comes with an automatic needle threader, 27 built-in stitches, and automated buttonholes to make your life as easy as possible.

Let's not forget that it's lightweight and extremely affordable. The Brother XM207 gives you the chance to start sewing without having to break the bank.
3. Singer 🇺🇸
SINGER is the name we all know and love. They are the most popular brand in the United States. It was established in 1851 after its founder Isaac Singer patented the first practical sewing machine.
Since its inception, the company has produced some of the most innovative designs in the market.
They created the world's first zig-zag machine and electronic machines. 
Singer prides itself on creative innovation and practical design. Moreover, they are affordable and offer a huge selection of sewing machines for different needs and preferences.
Best Singer Sewing Machine For Starter
The SINGER Start 1304 comes with 32 built-in stitches and an automatic threading system to make your life as easy as possible. The two knobs on the front of the sewing machine make it easy to adjust your stitch and the length of your stitches.

You don't need to worry about fancy screens or excess knobs and buttons. The SINGER Start 1304 keeps it straightforward and easy.
4. Bernina / Bernette 🇨🇭
Bernina is a sewing machine company born out of Switzerland. In 1989, they changed the name to Bernette. A combination of the old name "Bernina" and the owner's mother's name.
They produce some of the high-quality and most durable sewing machines in the industry. Customers love this brand for its meticulous stitch functions.
They introduced the revolutionary hemstitching machine back in 1983. Since then, Bernina has continued to make innovative designs.
Best Bernita Computerized Sewing Machine For Beginners
This is a high-quality sewing machine that is perfect for beginners, but it also won't limit the projects you can work on.

It does come with a steep price tag, but you get what you pay for. It comes with a whopping 394 built-in stitches, an automatic thread cutter, memory for saving settings, and an adjustable pressure foot. As a beginner, this is a powerful sewing machine that is still easy to use.
5. JUKI 🇯🇵
Juki's humble history originated in Japan. They marketed their first home sewing machines in 1947. But it wasn't till 2000 when Juki's products were made available internationally. 
Since going international, Juki gained the trust of many sewers around the world. Their machines are exceptional and inspiring. They offer choices for both commercial and household sewing.
Best Juki Sewing Machine For Intermediate Sewer
Before I start, Juki does not make the most beginner-friendly sewing machines. Many of their sewing machines are gear toward intermediate and expert sewers.

With that said, the Juki HZL-LB5100 is a great beginner-intermediate level sewing machine.
It comes with 99 built-in stitches and an LCD screen that makes it easy to select your settings.

It's also lightweight and portable, which is great if you tend to move around often.
6. Toyota 🇯🇵
The Toyota brand is not limited to durable and affordable vehicles. This business giant has also delighted consumers with affordable and quality sewing machines since the 1940s. Just like their cars, Toyota's sewing machines are compact but durable.
Toyota products allow you to enjoy the power of an industrial sewing machine at the comfort of your home. These machines are designed beautifully. It's hard to believe how cheap they are compared to competitors.
Best Toyota Sewing Machine For Beginners
Toyota Oekaki Renaissance Sewing Machine, Red
You might not realize that Toyota makes sewing machines, but they do.

The Toyota Oekaki Renaissance is a machine that includes 50 built-in stitches. There is also a practice template and started kit to help you learn to thread your sewing machine.

It's also lightweight and quiet, which makes it perfect if you want to avoid loud machines.
7. Jaguar 🇬🇧
Jaguar is a UK company founded in 1949. Today they have expanded their across in the USA and Germany.
If you're in it for an all-metal structure sewing machine, Jaguar sewing machines might be just what you're looking for. They are known for their durable and noise-free set of machines. Their heavy-duty machines work the best for professionals and those with massive-scale projects.
Best Jaguar Sewing Machine For Starters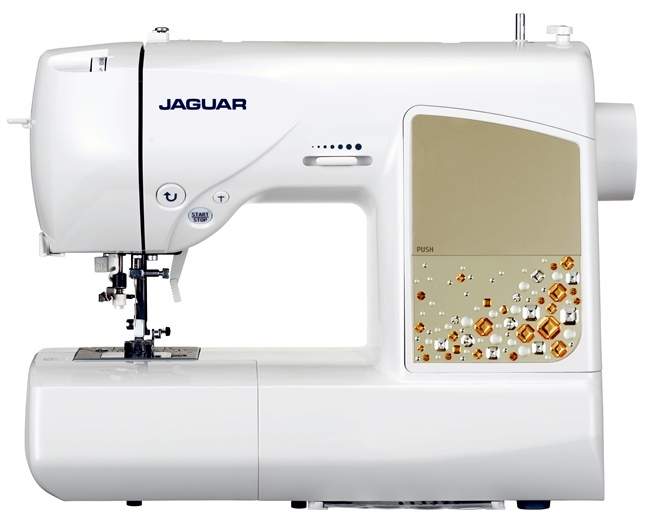 Jaguar DQS 405 Sewing and Quilting Machine
Jaguar DQS 405 is a premium sewing machine with unique features. It comes with 500 different built-in stitch options and 13 variable needle positions.

But it also comes with easy-to-use functions and sliders that make this a straightforward sewing machine to use. There are minimal complications, and buttons are well organized, making it easy to use.
8. Pfaff 🇩🇪
Pfaff is a renowned German brand and has been in operation for over 150 years. At first, they only created leather seams for shoe production. The company has expanded since producing durable sewing machines.
Their machines are quite pricey, but they're worth spending every penny. Pfaff is an excellent brand for both seasoned and novice sewers and quilters.
Best Pfaff Sewing Machine For Novice Sewers
Pfaff Creative 3.0 is a high-tech sewing machine, but it's also relatively easy to use.
It only comes with four built-in stitches and a one-of-a-kind custom drawing stitch creator.

You can also customize your embroidery designs with an on-screen stylus and sketch tool.
This is a state-of-the-art sewing machine, but it does come with a steep price tag.
9. Elna 🇨🇭
Elna brand is a Swiss company founded in 1940.
They are known for modern, versatile sewing machines. They are a leader in innovation for both design and functionality. They create a variety of machines for both sewing and embroidery.
Their machines are user-friendly, durable, and beautifully designed.
Best Elnita Sewing Machine For Beginners
The Elnita EC30 is an easy-to-use, high-quality sewing machine. It comes with 60-built in stitches, an LCD screen, and an automatic threader. These features are perfect for beginners.

The 60-built in stitches give you ultimate customization. With an LCD screen, it makes it easy to set your settings and adjust quickly.
10. Husqvarna 🇸🇪
Husqvarna has one of the most diverse histories. It is a Swedish based company known for its "smart" computerized sewing machines. They began creating artillery pieces back in 1689. But they shifted to creating sewing machines in 1872.
Husqvarnas smart machines allow you to input all the details of your projects into the device. The machine will then analyze your inputs and adjust all its settings for you.
Singer company adopted this Swedish brand last 2006. Together with Pfaff, their company is now known as SVP.
Best Husqvarna Sewing Machine For Beginners
Husqvarna Viking Eden Rose 250C
The Eden Rose 250C is a modern sewing machine made for beginner sewers. It comes with a massive 145 built-in stitches, 4 alphabets, and seven buttonhole options for unlimited customization.
This sewing machine comes with advanced technology to help beginners. It comes with an exclusive sensor system that senses the thickness of the fabric and adjusts accordingly.
Conclusion
There you have it. Our top picks for the best sewing machine brands today. 
No matter which brand you choose from this list, you know you're in good hands! No more guess work, our top 10 sewing companies will sure deliver the highest-quality sewing machines money can buy.